This year's theme for Black History Month is 'Saluting our Sisters', which highlights the crucial role black women play in shaping history, inspiring change and building communities. 
As Black History Month comes to an end, Leona Kirwan a bus driver from our Acocks Green garage shares her story highlighting why she's proud to be a black female bus driver and why identity and the way people see her is important...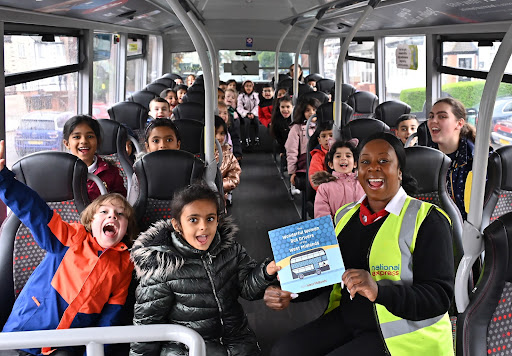 I'm really proud to be a black woman bus driver. In an industry that is still predominantly male, I feel like I'm part of an exclusive group of strong and determined women. It's really empowering.
During my time on the road, I've had customers board my bus and not realise that I am a black woman driver. It's only when they get off that they do a double take and are pleasantly surprised.
I remember a time when I had a woman passenger on board my normal bus route (the 11) and I thought to myself "is this person ok?" because she kept on staring at me while I was driving, so I asked if I could help her. She said "Oh no, I'm just so fascinated as to how you're handling the bus. You're doing a fantastic job and I'm just in awe of your driving." After a time you get used to it but I was a bit taken aback by her comment and the effect I had on her by just going about my normal working day. It does make you think.
The main challenge I've faced has been overcoming people's race-based assumptions. I've had both drivers and customers assume that I can speak Patois, and I've had passengers board my bus and fist bump me and call me "sista". Yes, I do have Jamaican heritage but I'm born and bred British, I don't know how to speak Patois and I'm not a fist bump kind of person. These are just assumptions based on the way I look.
My identity and the way people see me is important to me. If I can do anything it's to speak up. It doesn't matter who you are, what you do, or where you come from, if someone is making assumptions about you or putting a label on you that you don't agree with, speaking out or reminding people of what is ok and what isn't will help someone else who could experience a similar situation. I'm a bus driver but I believe that everyone can do their bit, big or small, to challenge outdated stereotypes.
Honestly, I feel great to be part of a growing number of women, and particularly black women at the company. I have children who board my bus, and for them, seeing a black woman driver is just the norm - and that's how it should be. I hope that by working in a role that historically was not open to women, or women of colour, it continues to open up our next generations' minds as to what is possible. If they think it's the norm now, there will be no doubt in the future.
Outside of my role with NX, my daughter, my mum, and I run a Caribbean food delivery service from our home every month. It's a not-for-profit venture and we keep the costs low because with the cost of living, many families can't afford the luxury of dining out or ordering takeaways.
We noticed there was no local Caribbean food available before, so it's really satisfying knowing that people can enjoy a good Caribbean meal. Many people often express their gratitude for being able to savour our authentic Caribbean dishes and it's a joy to bring the taste of the Caribbean to our community. My mum and I feel so grateful to be able to make a positive impact on people's lives through our love for cooking and sharing our culture's cuisine.